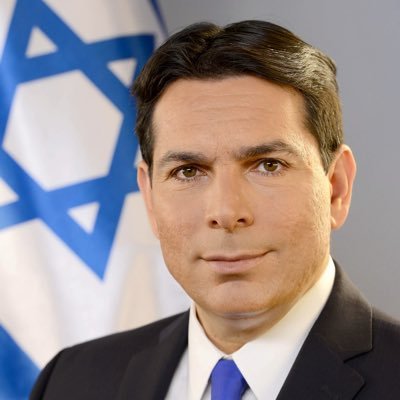 Ambassador Danny Danon
Ambassador Danny Danon became Israel's 17th Permanent Representative to the United Nations in October 2015. With over twenty years of experience representing Israel overseas and within the public sector, Ambassador Danon has developed a reputation as one of Israel's most ardent defenders.
At the UN, Danon became the first Israeli to lead a UN committee when he was elected Chairman of the Sixth (Legal) Committee in 2016. The following year, he served as Vice President of the General Assembly for its 72nd (2017-2018) session. During his tenure, Danon has spearheaded numerous resolutions and efforts that changed Israel's standing at the UN. In 2016, he led the UN's first international summit against the Boycott, Divestment and Sanctions movement. Danon also initiated a program to lead his ambassadorial colleagues on numerous trips to Poland and Israel.
Prior to assuming his role as UN ambassador, Danon served in the 18th, 19th, and 20th Knessets. In his first term (2009-2012), Danon served as Deputy Speaker of the Knesset and chaired several committees and caucuses, including the Committee on the Rights of the Child, the Committee on Immigration, Absorption and Diaspora Affairs, and the IDF Widows and Orphans Caucus. He was also a member of the Foreign Affairs and Defense, Economic Affairs, and Constitution, Law and Justice Committees. In this capacity, Danon passed multiple legislative items that focused on social and economic issues.
From 2013-2014, Danon served as Deputy Minister of Defense, where he headed the Social Welfare and the Reserves departments. His efforts centered on increasing IDF enlistment from traditionally underrepresented segments of Israeli society, as well as improving service conditions for service members in the military reserves.
In 2015, Danon was appointed Israel's Minister of Science and Technology. In this role, he expanded international cooperation and investment in the fields of science and technology, as well as increased access to them for women and minority groups.
Prior to serving in the Knesset, Danon was a member of the Board of Directors of the Jewish Agency for Israel, Chair of World Betar, and member of the Executive Board of the World Zionist Organization, where he led efforts to combat Antisemitism. Danon also previously served as a representative of the Jewish Agency in Miami, Florida, where he promoted Israel advocacy to the community and on campuses.
Danon completed his military service at the rank of Lieutenant. He holds a Master's Degree in Public Policy from the Hebrew University of Jerusalem and a Bachelor's Degree in International Relations from Florida International University, for which he earned Magna Cum Laude Honors. In 2018, he received an honorary doctorate from Yeshiva University.
Ambassador Danon has contributed to leading publications including The Wall Street Journal, The New York Times, New York Post, LA Times, USA Today, and Foreign Policy and has made regular appearances in international media outlets including CNN, Fox News, MSNBC and BBC.
He is married to Talie Danon. They have three children, Aviad, Hila, and Shira.